Well isn't this a rare sight?
Bayern Munich have been in the Bundesliga for 49 years, and yet the will host a Bundesliga opponent they have never faced before. Their only peak at SC Paderborn 07 was in the DFB-Pokal, but only two players – Claudio Pizarro and Mahir Sağlık – are left from that meeting.
The two are now on equal terms again, sharing the top of the table. Both have two draws, but Paderborn's appear as victories and Bayern's appear as defeat. The positive and negative narrative surrounding Paderborn and Bayern respectively will cross in Allianz Arena, where die Roten have dropped 11 points in the past 38 home matches.
It will be a different kind of test for both teams, but one that Bayern could be more prepared for than Paderborn.
The Match (2nd Meeting)
Location: Allianz Arena, Munich Germany
Referees
Head: Sascha Stegemann
Assistants: Holger Henschel, Martin Thomsen 
Fourth Official: Thomas Gorniak
Time converter at worldtimebuddy.com
Television and Streaming:
US: GolTV, MyGermanTV+
Canada: GolTV
UK: ESPN UK | HD
Germany: Sky Bundesliga 3 | HD, Sky Go
Other Countries
The Fixture
Form
FC Bayern: DWWDW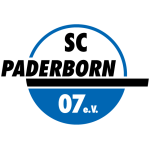 Paderborn: WDWDL
Records
DFB-Pokal: 1 W, 0 D, 0 L
Largest Victory: 5-1 (DFB-Pokal: August 27, 2001, Paderbron)
The Squad
For the sixth time in their Bundesliga season, Bayern have failed to score more than five goals in their first four matches. Even so, they have manage to extract eight points, giving them the third best goal-to-point ratio in the Bundesliga.
The total is a little unnerving for a club that scored over 90 goals each of the last two seasons, but all of Bayern's top personnel have not been available. Franck Ribéry's status is still up in the air after getting a short shift against Stuttgart, and Arjen Robben needed to be scratched after experiencing problems with his thigh during warmup. Against a tactically conservative side, Pep Guardiola will have to not play many games when he is filling out his team sheet this time around.
What has worked to great affect is Guardiola's defensive plan. The addition of Xabi Alonso has allowed Guardiola to rely on more defensive adept midfielders rather than loads of playmakers. The two goals they have allowed is tied for second best in the Bundesliga, And they have achieved three consecutive clean sheets since their return from the international break. Jérôme Boateng has extrapolated his World Cup form into Bayern's campaign as Mehdi Benatia and Dante round into their league form.
Guardiola probably won't rest as many of his key players as he did against Hamburger SV, but some players probably need a breather. Thomas Müller should receive the rest he was going to get until Robben became a no-go. Also, Sebastian Rode should get his first opportunity since the international break to secure a spot in the side.
The test will be similar for Bayern at midweek as it was at the weekend, but their mindset might be a bit stronger going up against a side they are level on points with.
Projected Lineup (4-2-3-1):
Robert Lewandowski
David Alaba – Mario Götze – Xherdan Shaqiri
Xabi Alonso – Sebastian Rode
Juan Bernat – Dante – Mehdi Benatia – Rafinha
Manuel Neuer
Bench: Tom Starke, Jérôme Boateng, Philipp Lahm, Pierre-Emile Højbjerg, Gianluca Gaudino, Thomas Müller, Claudio Pizarro
The Opponent
Paderborn are having a heck of a time in their first season in the Bundesliga. They are atop the table with eight points and the best goal differential in the Bundesliga. It is a start that any promoted team would dream of, but will they wake up and fall back to reality?
Their success has come with tactical discipline, André Breitenreiter shifting between a 4-1-4-1 and a 4-4-2 to churn out results. They have not held the ball more than their opponents once this season, averaging 39 percent possession in their first four games. It is a system that has worked, and a system that Breitenreiter is proud of.
"We have showed that we can act in different systems in the Bundesliga," Breitenreiter told Paderborn's website on Sunday. The team has proven higher tactical discipline."
Paderborn will be without two of their elder members, Alban Meha and Mahir Sağlık. Marvin Bakalorz, who has started three of the four matches in midfield, will need to stay behind due to a cold. That will limit the flexibility for Breitenreiter, but he has enough personnel he has consistently relied on to fill his team sheet with.
The sit and counter will only go so far, but against a club that was just held off the score sheet, they might have a chance.
Projected Lineup (4-1-4-1):
Elias Kachunga – Süleyman Koc
Moritz Stoppelkamp – Mario Vrančić – Patrick Ziegler – Lukas Rupp
Daniel Brückner – Uwe Hünemeier – Christian Strohdiek – Jens Wemmer
Lukas Kruse
Bench: Daniel Lück, Michael Heinloth, Thomas Bertels, Idir Ouali, Marc Vucinovic, Marvin Ducksch, Stefan Kutschke
The Outcome
Paderborn has stumped many a Bundesliga side so far, and Bayern is stumped when trying to score goals. The Rekordmeister have done much better on the counterattack this season than last, so Kachunga could easily come up empty looking to improve on his impressive goal tally. What Bayern's attacking midfield can create in tight spaces will be the key to getting on the score sheet, and the personnel Guardiola elects to field will go a long way in deciding that.
Projected Score:
Bayern Munich (2-0) SC Paderborn 07