I'm writing again as I watch so hopefully I'll be able to do a good job. Today Bayern take on Wolfsburg. How bittersweet would it be to clinch the title with a win instead of a draw against their former coach on his own turf?? Bayern have quite a few changes today with Rensing in goal, van Buyten in place of Lucio, Podolski has taken Klose's spot while he recovers from surgery, Sosa, Ottl and Sagnol also make the start today.
Wolfsburg is giving Bayern a good run here at the start. They're keeping Bayern pretty tied up in the midfield. Luca and Poldi haven't really seen a ball come through yet. Demichelis is superb in defense. Mark retaliated for a foul against him and Wolfsburg were given a free kick in which Rensing gave a beautiful save. Wolfsburg are putting a lot of pressure on Bayern, but pretty much the entire team is pulling together in defense. Schweinsteiger made a great clear that could've been very dangerous if Wolfsburg had gotten hold of the ball before him.
Willy took a free kick and set it up beautifully. It was a great cross from Willy to Luca Toni who headed it just wide and Marcell Jansen tried to put it home but he just hit the post. They're working on it, but nothing is going through yet.
First yellow card was given to Wolfsburg's Simunek at 26' for bringing down Luca Toni for the third time. He had already fouled him twice and I think he decided the third time was enough. Wolfsburg really have some great passing. They're playing very good football, but have yet to find the back of the net. Defending is being done beautifully by are back line, but Wolfsburg are trying very hard to break through.
I'm getting the impression that whoever gets the first goal may just be the winner of this match. Both teams are trying very hard to make it 1-0, but no one has been able to get to the back of the net just yet. Great defending by both teams this match. Fee kick was given to Wolfsburg, but it was deflected winning them a corner which was headed out by their own player so Bayern got possession back.
van Buyten is doing a very good job defensively today. I'm glad to see he got the start. He's done a great job alongside Demichelis during this first half today. van Buyten again with the header away just before the first half ends.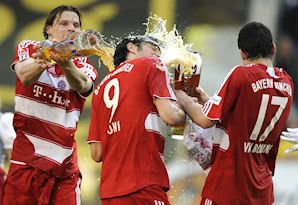 Christian Lell will start the second half for Marcell Jansen. Jansen took a knock on the knee during the first half and evdently injured himself a bit so he's sitting out. No changes for Wolfsburg.
Another great chance by Wolfsburg Captain, but Rensing makes a great save. He's been doing a superb job between the posts today. He doesn't look as shakey as he has in the previous match. Both teams have been extremely close to scoring, but neither have been able to find tthe back of the net yet. We'll see what happens. Wolfsburg got the ball down to their scoring side, but van Buyten stole the ball back for Bayern.
Lukas has now slipped twice on the pitch when he had an opportunity to score. Not sure what's going on there. The announcers suggest a cleat check. Christian Lell draws the first yellow for Bayern at 54'. Free kick for Wolfsburg and Rensing punches it away. This half has started a little slower than the first half, but its still a very good back and forth game.
Wolfsburg are putting a lot of pressure on Bayern again, but I'm telling you van Buyten and Demichelis have been class this match. An incredibly solid pair in defense today. They are being tested a lot, but they have always come out tops thus far. Toni Kroos comes on for Bastian Schweinsteiger at 63'. Again Demichelis saves our behinds. Daniel is working his legs off taking back possession for Bayern. He and Micho are going to be completely drained after this match I'm sure.
Ah, 69' minutes and Mark scores his yellow card. I was wondering when that was going to happen. ;) I knew my Dutchman would get it sooner or later after the way he's been playing this match. He did, however, ask the ref to wait a second before showing him the yellow while he checked on the Wolfsburg player he fouled and helped him off the ground. The ref complied and waited for them to finish before showing the yellow.
Wolfsburg are making a huge effort at scoring against Bayern, but again, our defense has been superb this match. The game had taken a small dip and lulled a little bit, but it's picking back up again. Breno came in for Daniel van Buyten, who limped off the pitch so hopefully everything is okay there.
Podolski takes a shot, but again its wide. He can't seem to find the target at all these days. Breno has picked up nicely where van Buyten left off. He's quick and was able to stay on top of his man the whole way before taking the ball from him when Wolfsburg could've possibly scored.
Bayern are minutes away from being Deutscher Meister. And there you have it. Walking away with a draw and a championship. The celebration was pretty funny. Mark doused Ottmar with beer after Rense lured him into a false hug. Daniel has indeed hurt himself, but didn't give up on the celebrations. Instead he jumped on one leg while holding the other up off the ground with ice strapped to his knee. A valiant effort by our big Belgian defender today. And as if to say it all, Willy Sagnol put the C armband on Luca's arm. I never thought I'd see the day when Willy gave the 'C' to anyone. ;)
Favorite part of the Gol announcers: "The Fireman & The Policeman: Daniel van Buyten and Martin Demichelis" They also deemed van Buyten the man of the match.
Below is a break down of goals and yellow cards as they were awarded.


// -

// (26') J. Simunek, (54') C. Lell, (69')M. van Bommel