Starting lines for both teams.
Bayern: Kahn (C), van Bommel, Jansen, Klose, Toni, Ribery, Roberto, Schweinstieger, Lahm, Demichelis, Lucio
Zenit: Malafeev, Shirokav, Krizanac, Tomishchuk (C), Gorshkov, Anyukov, Denisov, Fayzulin, Zyrianov, Dominguez, Pogrebnak
This is going to be a tough game for Bayern. Everyone is sure they will win, but Zenit aren't going to give up easily. They are going to try harder than over to knock the favorites out and if Bayern don't step up their game, they're going to be able to do it.
The game has kicked off and one minute in Klose had a great chance but it was cleared away by Zenit's defence. Zenit scored the first goal almost right away. Ribery created a gap in the wall and the ball sailed into the net. On playback, Kahn could've done a better job, but Pogrebnyak was able to get it to the back of the net for Zenit to score.
Zenit are keeping both Ribery and Toni tied up so we need to find a way for other players to capitalize on that and we're just not doing it. Bayern are going through periods of aggressiveness followed by lulls of what appears to be sleepiness. I'm not sure what is going on with their game play today, but I'm pretty sure if they don't step it up, Zenit will be the team to go through.
Wow... after little effort from Bayern to try and clear the ball after a long period of Zenit controlling he ball, Zyrianov makes a break and goes one on one against Kahn and scores on him. It's half time now and Zenit are up 2-0. Bayern need two goals to go through on aggregate.
The second half kicks off with a couple changes for Bayern. Lell comes on for Jansen and Podolski for Roberto. A different role for Lukas, but he tends to like to dribble so maybe a good spot for him. Good effort by Poldi and Toni almost right away, but Malafeev was able to stop it. And there it is, another goal for Zenit with all of Bayern just kind of standing around. I don't know where our defense went with this game. I am not a fan of Christian Lell.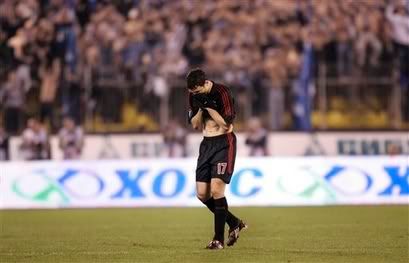 First yellow card of the match was given to Luca Toni and rightfully so. The frustration is catching up with Bayern, but I can tell you this much, playing like we've played today, Bayern don't deserve to advance. As heartbreaking as that is, but it's the truth. Zenit just played a better game. Well now it's sealed for sure.. Zenit just scored again with another goal from Pogrebnyak. They've pretty much seemed to have given up and are just there on the pitch. Maybe this will put the ego in check and make them start playing quality football again.
Lucio was fouled by Pogrebnyak and he was given a yellow, but I am not sure that it warranted a yellow card. I think that means he'll miss out on the final for Zenit. One has to wonder if we'd had a healthy Kahn or Rensing in goal if things would've turned out differently. It's all a guessing game, but what can you do? Bayern are going home and Zenit advance to the finals. Heartbreak aside, there's always next year right? *wry smile*
Below is a break down of goals and yellow cards as they were awarded.


// (4') Pogrebnyak, (39') Zyrianov, (54') Fayzulin, (73') Pogrebnyak.

// (66') Toni, (76') Pogrebnyak, (81') Lell