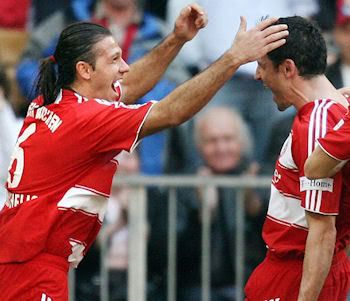 Starting lines for both teams:
Bayern: L. Toni, M. Klose, C. Lell, A. Ottl, M. van Bommel, B. Schweinsteiger, D. van Buyten, M. Demichelis, M. Jansen, W. Sagnol (C), M. Rensing
Stuttgart: Gomez, Cacau, Hilbert, Bastürk, Da Silva, Osorio, Tasci, Pardo (C), Delpierre, Magnin, Schäfer
Kahn is out relaxing, taking a day off in the stands as he's still recovering from the pinched nerve. Lahm is also in the stands today. I was surprised to see Miro on the pitch. Reports said he'd have surgery right away, but I'm sure he consulted with his BFF and decided that if Mark was playing, he was playing. And without a face mask too. I'm not sure how long he can prolong the surgery though. I'm really glad to see that van Buyten was given the start. Luca Toni showed his worth again and scored in the first seven minutes. I'm serious, FC Toniwood here we come. Stuttgart responded with a goal twelve minutes later, but it was helped by deflection from van Bommel. I was really glad to see that van Buyten got the start for this game. In the first twenty minutes he was a defending machine. Good for him. The first twenty minutes of this match was pretty exciting, but then it slowed a bit and things seemed to settle down just a little bit.
van Bommel was pretty good at policing the midfield today. A little more aggressive than last match, though I'm sure he feels a little more comfortable with his broken nose now. No changes at the half. I thought this was one of the better games this season as far as competition goes. Stuttgart really pushed Bayern to play football and wouldn't let them just fall back on their heels and muddle through the game like they have so many this season. Gorgeous free kick goal from Mark van Bommel around 56 minutes. Totally makes up for the deflection of a goal for Stuttgart earlier.
How do you show a team that you're not giving up? You throw Franck Ribery into the game and let him give a goal scoring clinic in two minutes. The little celebration with Toni ala Luca Toni style was entertaining as well. That first goal was simply beautiful. An amazing shot by Ribery.
With only four games left, Bayern remain on top with a twelve point lead and need to pick up one more point to seal the championship. For this match, the possession was pretty even, though Bayern controlled the ball a little more than Stuttgart. Bayern took twenty shots compared to Stuttgart's fourteen and had 314 accurate passes compared to Stuttgart's 259. All in all it was a good match where Bayern was pushed to bring their top game until Ribery came in and set the game on fire and made it look like Stuttgart hadn't even showed up to play.
Announcers: Bastian = The Blonde Bomber, Mark van Bommel = THE van Bommel, Mario Gomez = Super Mario, Luca Toni = Italian Stallion. I love these guys. Seriously.
What is up with Lukas continually cutting his hair? He should know he can't rock that style like Bastian can....
Below is a break down of yellow cards and goals as they were awarded.


// (7') L. Toni, (19') A.d. Silva, (56') M. van Bommel, (75') F. Ribery, (76') F. Ribery.

// (17') Delpierre, (68') R. Osorio, (72') F. Ribery, (81') B. Schweinsteiger, (90') L. Podolski