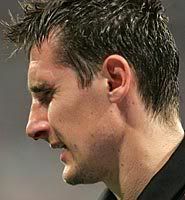 A family that plays together stays together right? Well, in case you all didn't know it Mark van Bommel and Miroslav Klose are buddies. Very good buddies. So much so that they ride into training from Grünwald to the Säbener Strasse in the same car each day for training. To show his loyalty to Mark, what does Miro do? He breaks his nose. But, being the competitor that he is, he couldn't just break his nose like Mark. That would be too simple. He broke it in three spots requiring surgery. Talk about loyalty amongst friends. ;) Which also means, unlike van Bommel, he can not defer surgery until the end of the season. The surgery has to happen now which will put him out of this weekends clash with Stuttgart and also make him unlikely for the second leg of the UEFA Cup against Zenit.
Also likely to miss the weekend match is Philipp Lahm. He has a muscle strain that may keep him sidelined. Other than sidelined, Hoeness has insisted that Lahm will be with us through next season. So it looks like they're going to try and keep him around through the duration of his contract at least.
We all noticed the substitution of the great one, Oli Kahn when Michael Rensing came on for him during the match with Zenit. Kahn was having some issues and thought it was either a muscle or nerve and could no longer move properly without much pain so he was replaced. The good news, if either of those things are good news, is that it's 'just' a nerve so Oli will have some recovery time, but will be able to be back inbetween the posts. If it had been a muscle, the Zenit match could've been his last... or so he says.
Hitzfeld says that Sunday's game is going to see a line change. He says he has a good squad and this is a chance for "bench" players to come off and prove themselves. Does this mean that the big beautiful Belgian will get his shot since Lucio screwed up? One can hope right?