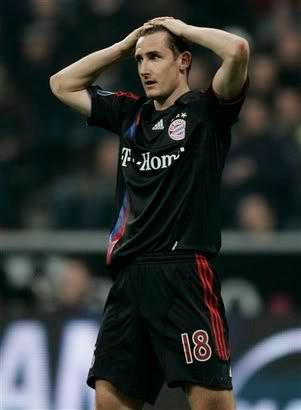 I wasn't able to watch Thursday's DFB Pokal match so in order to make up for it, I watched this game twice. Once streaming on-line with Chinese commentary which gave me a massive headache since I didn't understand them and then again when it was aired on Fox Soccer Channel in English. It's pretty obvious that our goal scoring comes from Luca Toni and we have to find and create a lot more chances when he's missing otherwise we fall short. And Toni doesn't appear to enjoy sitting in the stands at all.
We all know where I stand on my love for this team, my love for certain players and my discontent with other players. I would just like to start out by saying that my Lucio Love (read with a very sarcastic tone) is in full swing today. The more I watch him play (read as screw-up) the more I am convinced that we should pay Barca to take him away from us. As hard as I have tried, I seriously can't find his worth to this team. I would've switched him out that instant if it weren't for the fact that our reserves were on low due to Kahn being unexpectedly injured. For the love of all things Football and Bayern someone PLEASE take him off our hands. Put Daniel van Buyten on the pitch NOW. He's hungry, he's motivated and he's proven himself in the last few games; going so far as to score a goal...and not an own goal I might add. He needs to be rewarded for his efforts and Lucio needs to be reminded that it's not okay to be a f*** up. Yes, I'm annoyed.
I didn't know a thing about Zenit before this match, but I am impressed. They played with heart, hunger and a desire to bring Bayern down. Granted, Bayern maintained most possession, but that doesn't mean they lacked effort. They certainly put forth a lot of effort and had some pretty good chances, even when they got passed Rensing they were thwarted by our defense or by Roberto. I cringed every single time Mark got tackled. I was waiting for him to go face first and injure his nose further than it already is. Especially since he opted to play without a face guard. No yellows for our side. That's a first isn't it? I mean, not even Mark got a yellow today. Zenit racked up four.
I was a little unsure of the trade of Schweini for Lell. Schweini put forth a good effort today and I just couldn't see where they swap was necessary or why it needed to be done. Kahn picked up an injury though he wasn't traded right away. He tried to stick it out, but you could see he wasn't comfortable so eventually Rensing came in for him.
If we are going to win this we are going to have to work much harder in the second leg away to Zenit. Fortunately we will have Luca Toni back for that match as he was missed today. I'm starting to think we should change the name from FC Hollywood to FC Toniwood... or FC Lucawood... something in his honor. ;)
Random notes: Lukas Podolski cut his hair and I don't like it. Ze Roberto's hair is growing out and I hope we'll see the old style back soon.
Below is a break down of yellow cards and goals as they were awarded.


// (18') Ribery, (60') F.d.S. Lucio (own goal)

// (17') F. Ricksen, (28') V. Fayzulin, (75') R. Sirl, (79') A. Arshavin