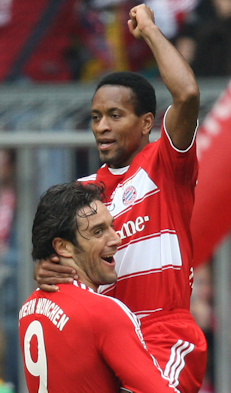 I'm writing this as I watch the match so bare with me if my thoughts are a little bit jumbled. I would first like to say that it was very, very good to see Sebastian Kehl back in the line up for Dortmund. I have really missed seeing him play. Mark was missing from today's line up due to a mandatory one match suspension for receiving his fifth yellow card... of course ;) Mats Hummels received the start from Dortmund and I'm sure he'll want to have a good match since he was loaned out from Bayern. It's been over 16 years since Dortmund won in Munich. Their last win came in October 1991.
Starting Line for Bayern: van Buyten, Demichelis, Podolski, Toni, Sagnol, Lahm, Schweinteiger, Lell, Ottl, Roberto, Kahn (C).
Starting Line for Dortmund: Kehl, Hummels, Degen, Dede, Petric, Valdez, Frei, Wörns (C), Tinga, Kringe, Ziegler.
Franck Ribery and Miroslav Klose were given a rest and as often as they showed them, neither one of them looked very happy. The game started quickly and kicked off with a gorgeous goal by Lukas Podolski at 2:20. Again at 7:40 there was another goal by Ze Roberto. Luca Toni scored the third goal at 17 minutes. And again he made his presence known at 21 minutes scoring his 18th goal of the Bundesliga season. The play started in Bayern's end with a little flick from Toni to Schweinsteiger and Schweini made a gorgeous pass to Ze who took it to the goal and passed it over to Toni to net it home.
Hummels is putting in a really good effort for Dortmund. I wonder if Bayern will bring him back or if Dortmund will try to keep him. You have to wonder how many times Schweinsteiger can continue to take a knock in that thigh that has been injured for awhile. Demichelis has been fantastic. He is the perfect example of defense. Our back line has been fantastic today though. van Buyten had some good efforts as well. I am very pleased that he is staying next season. More on that later...
Start of the second half saw Kahn get a rest and Michael Rensing came on. Dortmund also changed a couple players themselves. Bayern have been very dominant, but Dortmund are playing a much more aggressive second half. A very selfish Sagnol took a shot that he shouldn't have when Podolski was wide open - and free on the left. I would like to see him get back to his old form, but I don't see that happening since there isn't really all that much need for him at Bayern. Sagnol was taken off for Toni Kroos so the C went to Philipp Lahm.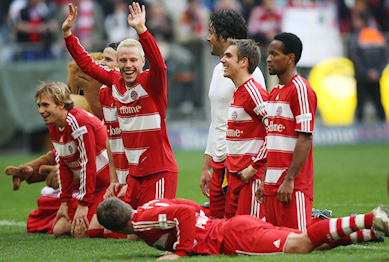 A mishap by Bayern almost cost them a goal, but Kringe missed. It is definitely not Dortmund's day. Tinga received the first yellow of the match In my opinion, it was a little malicious. He obviously had no intention of going for the ball. He stuck his spikes into Toni's leg. People need to pay attention to where Poldi is on the pitch. He's been open a lot and probably could've scored more goals if they would've passed to him. Andreas Ottl made the core 5-0 at 67 minutes. Sosa came on at 70 minutes for Schweinsteiger.
A great cross, dead on at 80 minutes but Roberto failed to capitalize on it and he just misses it over the top. Bayern were very dominant in this game. Dortmund came out in the second half a little more aggressive, but they just couldn't break down Bayern. You can't really say that Dortmund didn't try because they did, but it just wasn't their day today.
Mark was also in the stands sitting with Miro. We didn't see him until nearly the end. I don't know if Franck was sitting with them. When they showed him he seemed to be off to the side by himself. All in all it was a good effort by Bayern even after playing 120 minutes on Thursday.
Below is a break down of yellow cards as they were awarded and goals.


// (3') L. Podolski, (8') Z. Roberto, (17') L. Toni, (22') L. Toni, (67') A. Ottl

// (65') Tinga, (87') Roberto