Bayern took on Getafe in the second leg of the UEFA cup match. Right away, twenty seconds in Klose set up a great opportunity for Toni, but he couldn't carry it through. Two minutes in Contra took a shot but it sailed high and went over the to of the bar so Kahn didn't have much to do with that one. Six minutes in, received a red card and Getafe were seen a man down. Seven minutes in, Ribery missed a shot, but Toni put it in. It was disallowed due to a hand ball though. Talk about referee's not seeing things... In the first half, somewhere around 15 minutes or so, Mark took a hard hit from behind, not even having posession of the ball, and they didn't call that at all. If it had been Mark doing the knocking down, he'd have gotten a red for sure. The play slowed down a bit by both teams shortly after the sending off. Bayern carried the most possession, but failed to capitalize on it.
Ribery accidently gave a bloody nose today. I'm still unclear what happened because as many times as I've seen the replay, I haven' seen where he really touched the other player aside from his shirt. Ribery had a great corner delivery at 31 minutes and Demichelis should've been able to capitalize on it, but he couldn't put it home. Approximately two minutes later, Lell had a completely open net and failed to put that one home. I won't discuss how much I dislike him anyways.
I realize that I'm a bit bias on the subject but if you watch this game, you will see just how valuable van Bommel is to Bayern. Around the 40 minute mark, Ribery gets the ball taken away from him, but Mark does a brilliant job breaking up the play and taking possession back to Bayern.
Just before half time Contra scored a goal to put Getafe ahead. Two minutes of time was added on and we went to the break with Getafe one up on Bayern. The first half possession was all about Bayern. They controlled the ball 65% of the time compared to Getafe's 34%. Bayern won in shots as well with 7 to 4. Bayern carried 217 accurate passes and 47 bad passes.
The first half was somewhat bad for Bayern. They were just kind of there. I wasn't at all impressed with their form or the way they were playing. The defending was lax. They weren't all that aggressive. I do have to say, I much prefer to watch my games on Gol. The announcers are far better.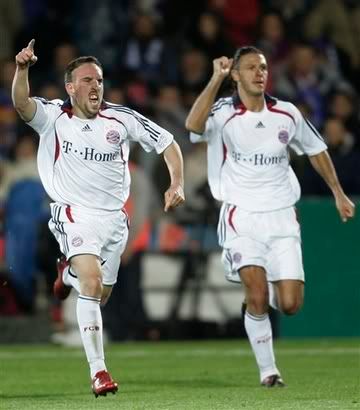 The start of the second half brought on the first change. Ottmar Hitzfeld removed Lell and started Jansen in his place. Miro has been hanging out with his buddy Toni a little too much because he got called for offside quite a few times today. I thought that only Toni had mastered that art, but evidently Miro felt left out. At around 49 minutes we had another goal that was taken away. Again. So now that's two that were taken away in this match. Mark has put some really good shots through today, but it doesn't seem to matter what any of them do. Either the shot doesn't find the net or when it does the goal is disallowed. Bad luck Bayern.
At 62 minutes Demichelis made a beautiful cross and Miro missed the shot. He was quite angry at himself as well. 63 minutes saw another switch for Bayern and Schweinsteiger came off for Sosa. There was a heart stopping moment for all Bayern fans when Getafe had a one on one opportunity against Kahn and it was sure to be the 2-0 for Getafe, but fortunately for all of us Bayern fans, the Getafe player lost his footing and slipped so Kahn was able to get the ball and get it out. At 69 minutes Sosa had a good shot, but it just hit the post and went out.
74 minutes saw the switch of Ze Roberto for Lukas Podolski. Good defending by Jansen in this section of the game. Lukas sort of jumped on someone's shoulder... not intentionally I don't think, but the boy got some air. Good attempt by Podolski at 79 minutes. It warranted them a corner. And after that, Bayern pretty much fell apart. Our redeeming factor was once again the amazing Franck Ribery who scored the equalizer at 89 minutes.
Two fifteen minute periods were added on. Right away, Getafe came out and scored. And this is part of the reason why I just can't see Lucio's worth to this team. I know there are fans out there, and believe me I wish I could see it, but I just can't. Toni got a yellow card and will miss the next match.
The announcers were so awesome. Between calling Lahm - Lamb, Klose - Clothes and the best yet, Micho as Mitcho... they were so amusing. I still terribly missed the Gol announcers. They are so much more fired up and make the game much more interesting. Podolski got a yellow and I'm not entirely sure what for... Jansen made the foul, but Podolski got the yellow.
Suddenly the match got very intense and a lot of great game playing happened. Luca Toni came out and saved our asses by getting a hattrick, which should've been 5 goals really but his initial two were disallowed. What an intense ending to a match. I was on the edge of my seat near the end. Crazy. Kahn coming out of his net to participate was something that I've never seen before, but that was great. And also after Toni scored the tying goal, the emotional shot of a crying Kahn was just overwhelming. Demichelis giving a little chat to Pato was great. A happy, winning Bayern is a loving Bayern. Bayern win on aggregate and therefore advance. All in all, it was the Luca Toni show for Bayern.
And lastly, I want to know what product Luca Toni uses for his hair. It's freakin' gorgeous.
Below is a break down of yellow cards as they were awarded and goals.


// (44') Contra, (89') Ribery, (91') Casquero, (93') Braulio, (115') Toni, (120') Pato

// (21') C. Lell, (36') P. Lahm, (104') L. Toni, (117') L. Podolski