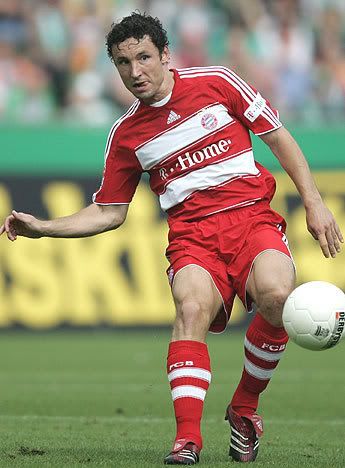 In 2006, Mark left the Netherlands' national team due to conflicts with head coach, Marco van Basten. It's no secret that van Bommel just didn't like him and that he's pretty well refused to play for his National side as long as van Basten is at the helm. Good news came when it was announced that van Basten would be stepping down. van Bommel then stated that he'd go back if the coach would have him. Now, the announcement comes that van Bommel's father in law, Bert van Marwijk, has been appointed to take over the National side. Mark's reaction:
"It is up to the coach to select me. Now my father-in-law is coach, that offers no guarantee, but I have said that I am available," van Bommel said ahead of a UEFA Cup match of his German club Bayern Munich at Belgian side RSC Anderlecht.
The Olympic coaches have also said that they would love to have him, but as long as he's not playing for the National side, they couldn't pick him. The good news is that he could return to National duty. The bad news? Bayern have outright said they will not allow him to play for the Olympics in Bejing because the games are held August 8th through 24th and the Bundesliga season will have already started.
Here's hoping Mark makes it back to the national side and also gets to fulfill his dream of playing in the Olympics at some point. I would like to see him be allowed to participate in the Olympics, but I also know it'd be pretty foolish on Bayern's part to allow him such a lengthy leave.