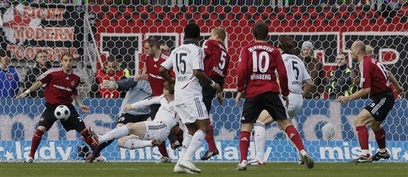 The first half of the match was dominated by Nurnberg and they definitely deserved to ead the score heading into half time. They created more chances, had more possession and tried just a little bit harder. With us missing Mark and Hamit Altintop being out for some time to come, I could definitely see some gaps.
Roberto cut his hair and it looks awful. van Buyten made a couple of great defensive moves early on. Nurnberg were very aggressive and ready to bring the game to Bayern. It was a very aggressive match.
Podolski replaced Klose at the beginning of the second half. Around 54 minutes he had a brilliant shot, but it hit the post and went just beside the net. At 57 minutes Podolski was taken down, but with little contact, though he seemed to have tweaked his ankle just a little bit and left the pitch for a few minutes.
Again with Oliver Kahn making some absolutely brillliant saves and it makes you wonder why he's retiring. Then some minutes later he's way out of the box taking a clearance because Nurnberg had a break and were all alone. As an aside, Altintop had surgery on Thursday and has told the Bayern website that he wants to be fit in time for June's Euro 2008 matches.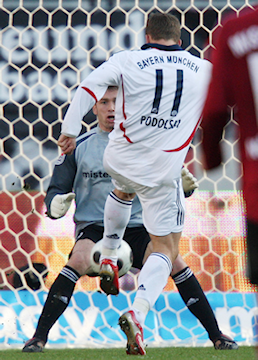 At 81 minutes there was a gorgeous set up by Robert to Ribery to Podolski and Podolski sent it home to tie the game. This is the kind of play that we need to see from him consistently. He stepped up his game. He was doing a lot of running and defense as well as scoring. That's how you earn playing time, but he needs to be consistent too. Hopefully this will be him starting to fight for his spot rather than just talking about how unhappy he is. And also let's hope that he didn't injure his ankle too badly in the clash. He looked like he was still having some discomfort later in the game.
The game was much better than the stats will show. It was very intense and both teams fought hard. Nurnberg fought harder in the first half than Bayern, but the second half was pretty evenly matched.
Below is a break down of goals and yellow cards:


// (44') Z. Misimovic, (81') Podolski

// (16') Wolf, (23') Z. Roberto, (26') M. Klose, (35') M. Englehardt, (58') Z. Misimovic