Bayern took a win yesterday in the Bundesliga. I was glad to see the form return to the midfield. Mark may have been voted the most hated player in the Bundesliga, but you know, when he's on your team you can't help but love the guy. He brings an order to the team and midfield that is definitely amiss when he's gone. Rightfully, Bayern should've had at least 4 goals, but one was not allowed and another just didn't go in. And it should've. There was no excuse for that. Adler is a superb goalie with a lot of talent. I am sure one of these days we will see him in the National team. There was a most awesome save by ol' Oli Kahn where he did this weird flip thing and still managed to save the ball. It's times like these that make me wonder why he's hanging up his boots. The team could've done a better job. Leverkusen scored a goal thanks to Dmitriy Bulykin. Our two goals came from Luca Toni.
Bayern have denied the link to Polish keeper Boruc. They say there is no truth in the matter and have even responded by saying that Michael Rensing is their number one once Kahn goes.
"We have assured him that he is our number one. That assurance remains. Therefore everything else is just not an issue"
I agree that Rensing deserves a chance to go for the number one spot, but I don't think it should be handed to him. We will also need a brilliant back up goalie and someone with a lot more game experience to help pull him through and to continue teaching him.
And that's about all I have now, but here you get me, in my new jersey, sent from a friend of mine in Germany, hand signed by my favorite guy (even if everyone else hates him, I love him), the one and only, Mark van Bommel. :) What he wrote: Für Angie: mark van Bommel. And this is the first autograph that I have from him in which I can actually read Bommel... Color me happy.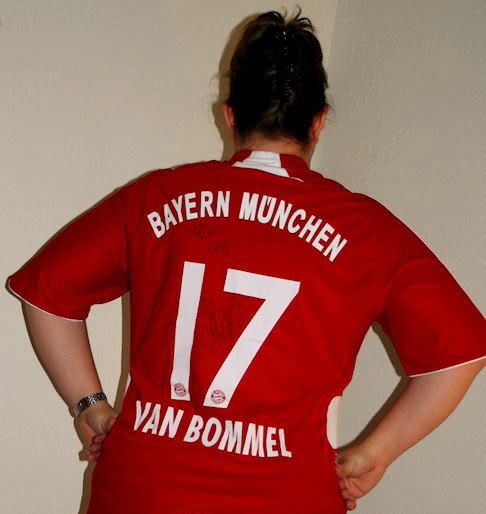 And last but not least, Happy Easter everyone!