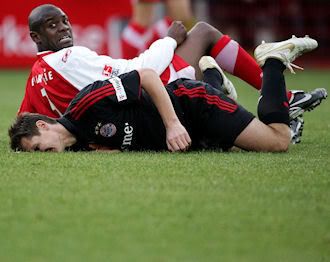 First I want to say to all of you out there, thanks for sticking with me here at the Bayern Offside. I enjoy all your comments and the interaction with all my readers. I am glad to have you all on board!
The game was on a delay airing for me, so I'm a little bit behind with this and most of you probably already know we lost. But here it is anyways. :) Wow. I kind of expected us to take a loss eventually. As much as I would've liked to have had a perfect season, I wasn't expecting one. However, I didn't think our first loss would come again Energie Cottbus. In watching the game, one thing was certainly clear, Energie wanted to win. They came out strong and definitely brought the game to Bayern. There was a goal by Ribery, but it was taken away.
Our midfield was a mess. I will be glad when van Bommel gets back. I was very unimpressed with the way that Bayern played today. Energie clearly wanetd to win more. They played an amazing game. Schweinsteiger isn't fit and was a terrible decision to play midfield. They replaced him at the half with Sosa. Lahm was also replaced by Jansen. At 65 minutes, Podolski replaced Lell.
The thing I can say about the game today, Klose really knows how to roll nicely. I am unsure if this has anything to do with him doing all the flips, but he certainly knows how to roll when he gets knocked over so as to not hurt himself. Style and grace. Funny how taking a hit can turn into something so elegant looking. ;)
Below is a break down of yellow cards and goals.


// Jelic x2

// Ziebig, Rivic, Angelov, Radeljic, Lucio, Lell