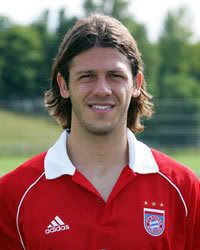 Ottmar Hitzfeld might leave Bayern known for ruling with an iron hand, but he's making his players pay attention that's for sure. First, it was the suspension of Oliver Kahn for talking out of turn about his teammates. Now it's the suspension of Martin Demichelis... until further notice. Why you might ask? He refused to change positions for the upcoming Bundesliga match against Energie. Demichelis refused to play defensive midfield on Saturday so, Hitzfeld's response was an indefinite suspension.
"A player can't state his wishes," Hitzfeld said. "Until further notice he is suspended."
Maybe it's just me, but when your boss tells you you're going to do something, you really shouldn't be saying, um no I'm not going to. You may not like it, but that's what happens when you work for someone and not yourself. Truly an unfortunate event.