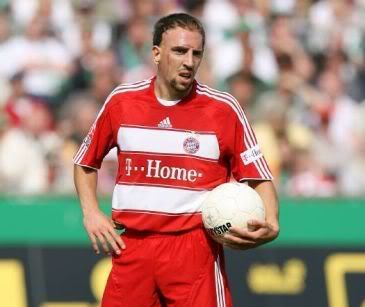 Bayern Munich's Franck Ribery has big dreams. Does he want to win titles? Of course. Does he dream of taking a championship? Of course. Does he want to return to a French club? Not exactly. In fact, the Frenchman said he doesn't see himself returning to a French Club.
"I can't see myself playing for a French club again, even for (six-times champions and Ligue 1 leaders Olympique) Lyon," he said. "Here (at Bayern), everything is so well organised. You just can't compare."
Does he dream of winning the Ballon d'Or? Sure, doesn't every player? Yet, that's not his big dream. So what it is it that the young 24 year old dreams of doing? Well, you may have guessed by now, he wants to be Zinedine Zidane. Yep, that's right. Ribery hopes to emulate one of the sport's all time greats and accomplish, and perhaps surpass the great Zidane.
"I'll do everything I can for that," the attacking midfielder told French sports daily L'Equipe when asked whether he believed he could eventually match retired France playmaker Zidane, one of the sport's all-time greats.

"Up to now I'm satisfied with myself," Ribery said in an interview published on Tuesday. "I'm still a long way from Zidane but I have many years ahead of me."
Good luck to you Franck. May your dreams come true.