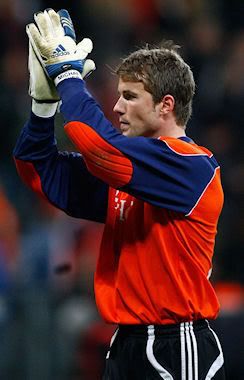 Bayern saw a loss against Anderlecht today, but still advance in the UEFA Cup. Both teams were pretty aggressive and it was clear from the start that Bayern weren't going to lay back on their feet and let Anderlecht walk away with a win. There was, however, some very sloppy play by Bayern and particularly, Breno. I am not impressed. Again, I'd like to ask where the former Willy Sagnol is because he seems to make a lot of mistakes these days too. By rights, the two goals that Anderlecht scored should never have got past Rensing.
Something happened during the second half and Anderlecht came out strong and hungry. They were not about to go down without a fight, and fight did they. Franck Ribery couldn't even capitalize. Anderlecht also had to change their keeper as Zitka picked up an injury in the first half so Schollen came on and had a strong second half. Bayern took a loss, but will be seen through on a 6-2 aggregate. And while he didn't have a spectacular game, I give it up to Lukas Podolski who played through a fever and an ear infection.
Below is a break down of yellow cards as they were awarded and goals.


// (9') Lucio, (20') Serhat, (35') Iakovenko

// (7') Juhász, (42') Iakovenko, (52') Deschacht, (90') Boussoufa