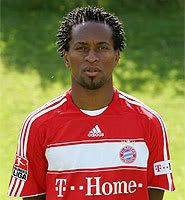 According to just about every source on the net, Bayern Munich midfielder, Ze Roberto will be leaving in 2009. Where will he be going? Possibly the US. Roberto has stated that he's in touch with a team in the US and that it could be an option. Roberto played for Munich from 2002-2006, but left the team due to tension between him and former coach Felix Magath. He returned under Ottmar Hitzfeld with a new contract carrying him through 2009.
"The end in Munich will come 2009. I have been playing in Europe for too long," he told kicker on Thursday.
"I am in contact with a team in the US, that is an option."