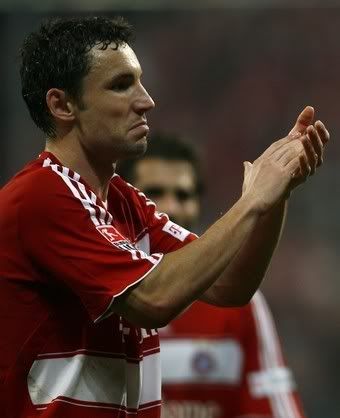 So we all know that Mark received a yellow and a yellow red in the Hamburg match. The yellow was his fifth and would've relegated him to sitting out the Schalke match, but he let his pot boil over and did that all too familiar gesture that got him booked in Madrid as well which the DFB requested a written explanation from him for this time. After receiving his written explanation, the DFB has added an additional three match ban for serioius unsporting behavior. I think a bit harsh, but the DFB will do what they see fit.
Mark, being Mark however has not accepted this band and therefore, the DFB panel will now have to consider everything and make a ruling on how many matches he will be banned. The saracastic clapping, seen here in the picture, is something he demonstrated prior to the gesture that has gotten him in more trouble. The ref of the match said in his statement that he never saw the clapping.
It's no secret that I'm a big fan of Mark's. I think he is a top class person and is a great addition to Bayern. Mark is one of those people who has an intense passion and love for the game and when he is angry or frustrated he pretty much wears his emotions on his sleeve. Granted, up until now, this year he'd gotten better, but sometimes we all have just a little too much and our emotions get the best of us. It will hurt us to be without him for any length of time. I do not agree with the reaction that he had, but it's not the first time that the Dutchman's emotions have gotten the best of him.
Aside from this, he was also ordered to pay a fine that Hitzfeld imposed on him for his behavior. Hitzfeld however had a little bit of sympathy for his midfielder:
"It was debateable who fouled whom in that situation, but the yellow card was shown to Mark." Van Bommel was well aware the booking – the player's fifth of the season - would rule him out of the Schalke clash, Hitzfeld argued. "He was totally wound up about it, and then he boiled over."
We'll just have to wait and see the outcome.