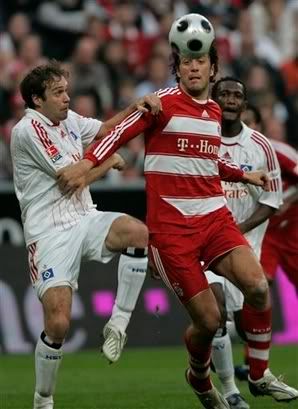 Today brought together Bayern and Hamburg. Both teams came out strong and were incredibly aggressive. Lucio has taken a beating for his team today. He took a cleat in the knee and had a pretty good gash from it. By half time, he was running out of body parts for Hamburg to injure. The first half brought about good shots by Toni and a really great effort by van Bommel that caught a deflection and went just wide.
The second half started with a more aggressive Hamburg and an excellent save from Kahn just around the 48 minute mark. The matches first yellow was issued to Jarolim which resulted in a free kick. Schweinsteiger took the kick and Rost made a beautiful save, punching the ball clear. Lucio got a little careless with the ball and Hamburg turned it over resulting in Olic scoring. Bayern responded by a beautfiul set up from Franck Ribery to Roberto for a goal.
A quick shot of the old Mark showed up at the end of the match which resulted in him getting a double yellow and subsequently booted off the pitch. Straight to the locker room he went. Even though he sometimes expresses it in the wrong manner, you can't help but love the guys passion for the game.
The draw sees Bayern go four points up on Werder Bremen so they could have a minor slip and still be okay, but it would be nice to see them get a few clear wins soon. Klose is looking more and more like he needs a rest. He made a couple good attempts, but missed them and you can see it's frustrating him.
Favorite commentary: You have to fight harder, especially against van Buyten, man mountain.
Final thoughts: I want to attack Hamit Altintop....... with a razor. And I want to know why Lell is trying to look more and more like Bastian.
Below is a break down of yellow cards, goals and yellow/reds as they were awarded.


// Olic (60'), Z. Roberto (66')

// Jarolim (57'), Kompany (72'), Lell (75'), Guerrero (79'), Boateng (88'), van Bommel (90')

van Bommel (90')