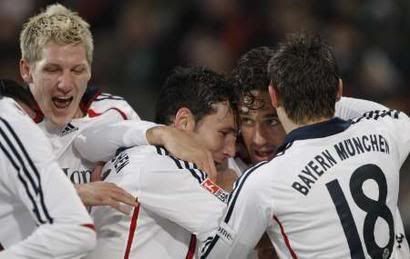 I don't have a lot to say about the first half of the game. I do feel like I missed something though because at the very beginning as they were lined up, Kahn was presented with two wrapped gifts. It's not his birthday, so I am uncertain what that was about. Bayern came out looking very sloppy and didn't seem to know what the hell they were doing on the pitch. There were some incredibly bad passes and some mistakes that just should not have happened. Lahm nearly cost them a goal by heading a ball that was clearly going to be a save by Kahn. Fortunately, no one was there to capitalize on it. Ismael was carded just 18 minutes in for a foul against van Bommel. Mark was getting pushed around quite a bit today so I figure they thought if they can't beat him, foul him. It's interesting to see him on the receiving end. ;) I do wish that Miro would stop being so unselfish, but that's the way he plays so he is often passing off to someone else when he could probably easily score.
The second half quickly turned into the Luca Toni show, which resulted in him getting a hat trick. Assists came from Schweinsteiger, Klose and van Bommel. I think that Daniel van Buyten came out and showed that he is worthy of a starting position on the team. He came out strong, saved Kahn's butt more than once. I wish that he was given more of an opportunity to play because he has shown, numerous times, that he is worthy of being in the game. Today was no exception. He was incredible defensively as well as offensively. He started a play that resulted in a goal by Toni. He is definitely an asset to Bayern, but for whatever reason Ottmar constantly leaves him on the bench.
With the win today, Bayern move three points clear of Werder Bremen once again claiming the top of the table as their own.
.
Below is a break down of yellow cards as they were awarded and goals.


// (58') L. Toni, (64') L. Toni, (82') L. Toni

// (18') V. Ismael, (22') H. Balitsch, (75') van Buyten, (86') S. Cherundolo