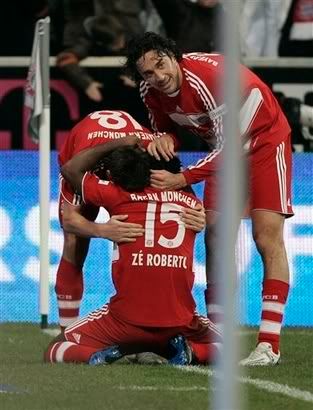 Today's match saw a clash of the titans when second place Werder Bremen came to town to take on top of the table Bayern Munich. The game was pretty much how I expected it to be. It was aggressive on both sides and sometimes a little more aggressive than I'd like. Six minutes in Bremen went ahead with a goal by Diego Weise was given a yellow card at 30 minutes and gave Bayern a penalty shot, which Luca Toni missed. Ze Roberto scored to bring the match even 1-1. The game had some great plays by both teams, but I still felt like Bayern wasn't initially playing at their capability. Franck was definitely missed. Lukas came on with fifteen minutes left for Miro. There were some great chances for Bayern. There were also a lot of mistakes. I am glad that the Bundesliga second half is back under way. I had missed my team playing. Sometimes, they make me really frustrated, but overall I am pretty pleased with today's performance. They had some missed opportunities and gave away the ball in situations that they shouldn't have, but they walked away with a draw that still leaves them three points up on top of the table.
I am still unclear on what happened that Kahn got a yellow card, but he got one none the less. I kept waiting for Mark to get his second yellow and get tossed from the game. He was getting pretty angry near the end of the match. Reverting to that classic angry Dutchman that people either love or hate. I for one, love it. As long as he doesn't hurt anyone. Overall, we seen a total of nine yellows.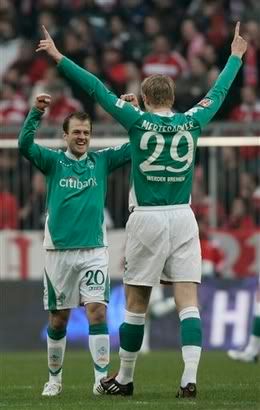 Both teams seemed to want to walk away with a win, but wherever Bremen got a chance they were thwarted by Demichelis or Altintop and where Bayern got a chance they were thwarted by Mertesacker or Borowski. While Borowski will make the change to Bayern next season and Per has declined to extend his contract with Werder, both were definitely dedicated to the green and white today and that came through loud and clear. And as an aside, I'm a fan of Boro's new hair.
Below is a break down of yellow cards as they were awarded and goals.


// (6') Diego, (32') Z. Roberto

// (23') D. Jensen, (24') Z. Roberto, (30') T. Wiese, (33') O. Kahn, (52') A. Hunt, (64') M. van Bommel, (70') F. Baumann, (82') L. Podolski, (89') T. Borowski