Despite Bayern's 1-0 win over Belenenses, Hitzfeld was left disappointed by his teams performance.
The lone goal was scored by Luca Toni after catching a cross by Mark van Bommel.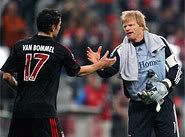 Belenenses coach Jorge Jesus thinks that they will be able to take a win over Bayern in the second leg.